Museums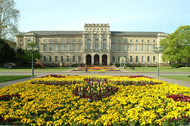 Karlsruhe is a cultural centre with an extraordinary wealth of museums. The Baden State Museum is the largest cultural history museum in the region. The Museum of Natural History has a number of exhibitions and a vivarium depicting native and exotic flora and fauna in realistic settings. Other highlights include the History of Law Museum, the Transport Museum and the Michelin Museum.
ZKM Media Museum
The ZKM Centre for Art and Media is the only cultural institution of its kind in the world, dedicating itself exclusively to interactive art, such as latest video art installations. The work of the ZKM Centre for Art and Media combines production with research, exhibition with event and communication with documentation. It also offers a range of workshops and guided tours for children, young people and adults. Closed on 24 and 31 December, 2 January and every Monday and Tuesday.
Baden State Museum
Since 1921, Baden State Museum has been located in Karlsruhe Palace, which was built in the 18th century by the Margraves of Baden-Durlach. The four storeys of the cultural history museum, the largest in the region, house collections covering the prehistory and early history of the state of Baden, ancient Mediterranean cultures from Egypt to Greece, the Badensian margraves' collections, including the "Turkish booty" collection and a "cabinet of art and treasures", as well as sections on the cultural history of Baden from the Middle Ages to the present day. The museum also hosts special exhibitions on various themes. Closed on Mondays, except public holidays.
»
www.landesmuseum.de
Karlsruhe Natural History Museum
The Karlsruhe Natural History museum has been in existence for more than 200 years. Its 4,000m² exhibition space features fascinating exhibits from the natural world and is one of the largest museums of its kind in Germany. Various scientific fields such as zoology, insects, minerals, geology and fossils are explored in detail, with native animals and creatures from different parts of the world displayed in settings representative of their natural habitats. A host of colourful live fish and reptiles can be seen in the vivarium, including a giant salamander, while the model of a giant flying dinosaur is a vivid reminder of prehistoric times. In addition, temporary exhibitions showcase the diversity and beauty of the natural world. Closed on Mondays.
»
www.smnk.de
Top of page
Map of Germany
Map showing all of Germany's TOP travel destinations...
Click here!
Search in surrounding area