Places of interest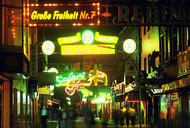 The port is the second-largest container terminal in Europe and
Hafencity
is Europe's largest urban construction project. The river Elbe, where the port is located, has been vital in shaping the city's development throughout history. The Alster lake is a recreational area in the heart of the city. Blankenese is an exclusive residential suburb; the baroque church of St. Michael is Hamburg's most famous landmark. The Speicherstadt warehouse district is the world's largest former warehouse complex – and last but not least there is the Reeperbahn, the renowned "red light district".
Hamburg port and the Landungsbrücken jetties
The port is among the world's busiest transhipment ports. It is the gateway to the markets in north, central and eastern Europe, the bridge between continental Europe and the rest of the world and the most important overseas port for Scandinavia and central/eastern Europe. Harbour tours start from the 700 metre floating pontoon on the Landungsbrücken jetties.
St. Michael's Church
Hamburg's skyline is defined by the steeples of its principal churches. The 132 metre tower of St. Michael, known locally as "Michel", is Hamburg's famous landmark. Climb the 453 steps to the viewing platform and be rewarded by fabulous views over Hamburg and the harbour.
"Speicherstadt" warehouse district
The 100-year-old warehouse district is between the Deichtor Halls and Baumwall. It is a very pretty quarter - not at all the kind of place visitors expect to find in an international port - with its Wilhelminian brick Gothic buildings, unusual gables and little towers. Behind the thick walls, high-value goods such as coffee, tea, cocoa, spices and tobacco are stored. This is also the location of the world's largest Oriental carpet store.
Top of page
Map of Germany
Map showing all of Germany's TOP travel destinations...
Click here!
Search in surrounding area