Conferences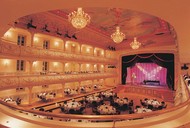 Erfurt is a fitting location for all kinds of events. Conference attendees can expect the latest technology and excellent service, whether in the historical Imperial Hall, the ultra-modern surroundings of the SWE complex or in the stylish 'comcenter Brühl'.
Erfurt Imperial Hall
The Imperial Hall cultural venue and conference centre in Erfurt combines excellent customer service with surroundings steeped in history, as you would expect from member of the Historic Conference Centers of Europe. This prestigious location, made famous by important historical figures and events, is suitable for all kinds of events with room for 700 people, an in-house catering service and professional facilities.
SWE Stadtwerke Erfurt GmbH
The impressive, ultra-modern building that houses Erfurt's municipal utility company conveys transparency and openness. The complex is an attractive venue for events such as gala performances, concerts and conferences. Its seating plan can be customised to accommodate up to 600 people. State-of-the-art conference facilities and a catering service make it ideal for successfully organising a wide range of events.
comcenter Brühl
The comcenter Brühl is operated by Bachmann Hotels who provide a complete, one-stop event management service. The light and airy atrium in this conveniently located complex can accommodate 350 people with its flexible layout. The high-quality technical equipment, even in the smaller conference rooms, ensures that everything runs smoothly and professionally, while the catering service can put on anything from a light lunch to a gala dinner.
Contact:

Tourismus GmbH Erfurt
Benediktsplatz 1
99084 Erfurt
Email:
service@erfurt-tourist-info.de
Website:
www.erfurt-tourist-info.de
Top of page
Map of Germany
Map showing all of Germany's TOP travel destinations...
Click here!
Search in surrounding area