Permanent exhibitions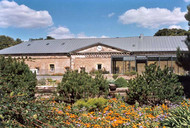 Permanent exhibitions offer fascinating insights into Erfurt's history and other specific themes. The German Horticulture Museum documents many aspects of horticulture and garden art. The natural history museum and the municipal museum trace Erfurt's history.
The German Horticulture Museum
"The Whole World in the Garden" is a permanent exhibition inside the ancient fortified walls of Cyriaksburg Castle. The exhibition comprises skilfully arranged thematic areas on all aspects of horticulture and the art of gardening. There are also temporary exhibitions for gardeners - amateur or professional - and everyone who loves gardening.
The Natural History Museum
The Erfurt Natural History Museum is housed in a woad storehouse dating from 1577. The permanent exhibition (800m2) features Thuringian habitats arranged by themes: geology, forest, meadows and town.
"Haus Zum Stockfisch" Municipal Museum
Discover Erfurt's development from its pre-/early history to the present day at one of the city's most prestigious late-Renaissance buildings.
Top of page
Map of Germany
Map showing all of Germany's TOP travel destinations...
Click here!
Search in surrounding area