Shopping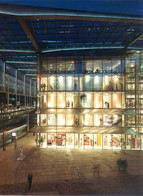 The numerous shopping streets and arcades in Chemnitz' city centre make it a paradise for shopaholics, while the pedestrianised areas also offer a chance to relax in one of the many bistros and cafés.
Rathaus shopping arcade
The Rathaus shopping arcade is located right next to the town hall and St. Jacob's church, and offers a mixture of stores, restaurants and business units.
Rosenhof and Innere Klosterstrasse pedestrian areas
You'll want to spend all day enjoying the wonderful old-town atmosphere in the popular Rosenhof and Innere Klosterstrasse pedestrian areas near the town hall. In the summer months street music and a wide range of cultural events create a lively atmosphere here.
Roter Turm shopping centre
The Roter Turm shopping centre has 60 stores selling a wide range of items, together with a cinema complex.
Top of page
Map of Germany
Map showing all of Germany's TOP travel destinations...
Click here!
Search in surrounding area