Seminar venues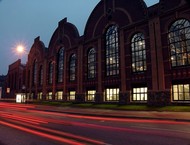 If you prefer to hold meetings in stylish historical surroundings, an Art Nouveau villa or moated castle might be the perfect choice. There is also an old foundry which provides an impressive industrial backdrop for workshops.
Villa Esche
The more intimate surroundings of the Art Nouveau villa designed by the Belgian artist and architect Henry van de Velde provide a sophisticated atmosphere for smaller conferences, workshops and exhibitions. The villa, set in lovely parkland, is a forum for business, art and culture.
Industrial Museum
This museum is a converted foundry which offers a seminar room, a gallery room and a special exhibition hall for meetings, conferences and workshops. The restored buildings of this industrial monument can accommodate up to 300 people.
Klaffenbach moated castle
Set in an idyllic location on the southern outskirts of Chemnitz, this Renaissance castle can accommodate over 200 people for concerts or conferences in its various rooms. The castle buildings and stunning surroundings make it an ideal venue for all kinds of events.
Top of page
Map of Germany
Map showing all of Germany's TOP travel destinations...
Click here!
Search in surrounding area