Museums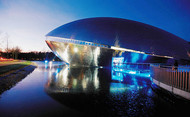 Discover, experience, enjoy – history, art, nature, technology. Bremen's museums and exhibitions lead visitors into unknown worlds and explore familiar ideas from unusual perspectives.
The Ethnological Museum
With an exhibition area of almost 10,000m² filled with spacious atria, Pacific island huts, temples and even a Japanese garden, it feels as if Bremen's Ethnological Museum combines the whole world under one roof. Located in the city centre, the exhibition explores life on Earth in all its astounding diversity. Budding explorers can discover Oceania with its tropical islands and spellbinding underwater world, Asia with its meditative gardens and bustling metropolises, the Americas with bison-hunting Indians and mysterious death rituals, and Africa with its kaleidoscopic markets and fascinating big game animals. Closed on Mondays, 1 January, Easter Monday, 1 May, Whit Monday, 24,25 and 31 December. Guided tours available.
»
www.uebersee-museum.de
The Focke Museum
The Focke Museum is one of Bremen's leading visitor attractions, and provides an excellent opportunity for anyone interested in the history of art and culture to immerse themselves in the city's past. Alongside the exhibition and children's museum, there are sections exploring Bremen down the ages, applied art, life and culture in the city, pre and early history and country living. Shipping also has a part to play in the museum, and you can even see a Borgward – a vintage car that was once produced in the city. There's so much to explore in Bremen's premier address for art and culture. Closed on Mondays, Good Friday, 1 May and Ascension Day.
»
www.focke-museum.de
Universum Science Center Bremen
Opened in 2000, Bremen's Universum Science Center is the place to experience the wonders of science at first hand. Covering about 4,000m², the permanent exhibition is based around three "expeditions", exploring Man, Earth and the cosmos. These interactive expositions encourage visitors to try things out for themselves and learn by doing. Highlights include a computer-generated dive showing underwater volcano eruptions and bizarre deep-sea creatures, a lesson on how rainbows are formed and the shimmering iridescent colours of a huge 70cm soap bubble. Open all year round.
»
www.universum-bremen.de
Botanika, Bremen
Work began on the Rhododendron Park in Bremen more than 60 years ago. Today the 46-hectare park presents an amazing collection of rhododendrons and azaleas with the botanical garden right at its heart. The garden is a nature discovery centre, combining nature and culture and illustrating the relationship between people and plants, with an abundance of native plants and ones from other continents demonstrate the diversity of the earth's flora. A sun dial by the sculptor August Tölken can be found among the plants.
»
www.botanika.net
Beck's Brewery
On the banks of the River Weser in the heart of the Hanseatic city of Bremen, visitors can enjoy a guided brewery tour to learn all about the Beck's and Haake Beck beer brewed here since 1879. A wealth of interesting information is provided about the fine art of brewing beer, from its origins through to the present day. The tour takes you through the museum, raw materials store and brewing room, past malt silos and fermentation and storage tanks. Learn all about the German Beer Purity Law, the different types of beer, top and bottom-fermented beer, how beer is stored and much more besides. The tour also includes two short films and presentations in the museum's cinema. Afterwards, visitors can sample some of the beer produced on site. Closed on Sundays and public holidays.
»
www.becks.de
Böttcherstrasse Art Museums
Situated in Bremen's old town, the Böttcherstrasse is a street around 100 metres in length known for its beautiful buildings and cultural monuments. It is home to the Paula Modersohn-Becker Museum and the Roselius House Museum, which together form the acclaimed Böttcherstrasse Art Museums, a fine ensemble of high-calibre art and expressionist architecture. These historic town houses are interconnected and can be explored as one. The Paula Modersohn-Becker Museum houses the first exhibition in the world dedicated to the work of a female artist - the German expressionist painter Paula Modersohn-Becker, who lived from 1876 to 1907. On show are paintings and drawings charting the various creative phases of her work. The Roselius Museum meanwhile, showcases late medieval art, historical decor from several eras, works by Tilman Riemenschneider and Lucas Cranach and the silver collection once held by Riga's Brotherhood of the Blackheads Guild. Closed on Mondays. Group guided tours on request.
»
www.pmbm.de
Kunsthalle Bremen
Kunsthalle Bremen, an art gallery of international standing now over 150 years' old, is situated just a few minutes from the market square in Wallanlagen Park. On display is a fabulous collection of European paintings from the Middle Ages to the present day, plus an exhibition of sculptures from the 16th to the 20th century. Artists represented range from the likes of Albrecht Dürer to modern innovators like Nam June Paik – with works including Old Masters, French and German Impressionism, Classical Modernism and media art. The Exhibition of Prints and Drawings, which holds almost 200,000 exhibits, is one of the most important of its kind. And the museum regularly hosts special exhibitions on influential artists and contemporary movements. Closed on Mondays. Guided tours on request.
»
www.kunsthalle-bremen.de
Cathedral Museum
This museum in the evangelical lutheran Cathedral of St. Peter was founded in 1987 to house relics from the medieval episcopal graves. They were discovered in the 1970s during an archaeological excavation in the building's central nave. The six historical exhibition rooms show how the cathedral was built and tell the story of the archbishopric of Bremen. Among the acclaimed exhibits from the resting places of the Bremen archbishops are fragments of silk pontifical robes, mitres, crosiers, bishop rings, sculptures, historical wall paintings and tools used at the altar from the 11th to the 15th century. Also on display are works of art, for example by Lucas Cranach. Open every day, closed on Good Friday and 1 May, 3 Oct., 24, 25 and 31 Dec.
»
www.stpetridom.de
New Weserburg Museum
The New Weserburg Museum is one of the largest modern art galleries in Germany, with 6,000m² of exhibition space spread across four historical warehouses on Werder island. Eleven collections, featuring work by German and international artists since 1991, highlight the various artistic movements of the last 50 years. The exhibits also include a notable selection of art books. Alongside a number of temporary exhibitions, the museum also stages film presentations and performances and offers educational activities. Closed Mondays, Good Friday, 1 Jan., 1 May, 3 Oct., 24, 25 and 31 Dec.
»
www.nmwb.de
Werder Bremen Museum
Opened in 2004, the Werder Bremen Museum or "WUSEUM" ranks among the top attractions in the Hanseatic town of Bremen, especially for football fans. As you might expect, soccer takes centre stage, with photos of famous players such as Ailton, Rufer and Maradona, fascinating rarities, such as a letter written by the legendary Sepp Herberger to Werder's West German international Max Lorenz, and hand-painted posters advertising the club's European Cup Winners Cup tie against FCM Bacău of Romania. A variety of multimedia terminals offer photos, audio recordings and video clips, and there's even an interactive Werder Bremen trivia challenge. When the club are playing at home the museum closes an hour before kick-off.
»
www.werder.de
Harbour Museum Speicher XI
Built in 1912 at Bremen's former international harbour, the Speicher XI is now a listed industrial monument. The museum opened in 2004, charting 120 exciting years of history in the waters of west Bremen. Personal biographies paint a picture of harbour life down the ages, and a special section displays model ships and freighters. The highlight of the exhibition is the aerial view of the harbour as it looked in 1974, which visitors can actually walk across. Right beside this is a scaled-down model of Bremen's historical grain storehouse. Water, oceans and the harbour at work are the subject of a collection of paintings and photographs – telling tales of faraway lands and the yearnings for distant shores. Closed Mondays except Easter Monday. Guided tours available.
»
www.speicherelf.de
Top of page
Map of Germany
Map showing all of Germany's TOP travel destinations...
Click here!
Search in surrounding area