Places of interest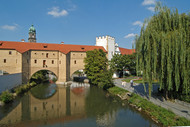 Amberg lies on the river Vils between the Franconian Alb and the Upper Palatinate Forest. In the 12th century it became an important merchant town, transporting mainly iron ore, salt and grain on its waterways. Often referred to as the unofficial capital of the Upper Palatinate region, Amberg has managed to retain its unique heritage, which visitors will find reflected in the town's architecture. The town wall has been preserved almost intact and there are many historic buildings just waiting to be explored.
"Town spectacles" (Stadbrille)
The "town spectacles" (
Stadtbrille
) are Amberg's most famous landmark. They form part of the town's fortifications and connect the New Castle and the armoury. The river Vils flows through the old town under the double-arched culvert which is popular with photographers. Both the arched gateways are reflected in the river and look like a pair of spectacles. In the past they could be sealed with portcullises to protect the town from invaders.
St. Martin's Church
Apart from Regensburg Cathedral, St. Martin's Church is the largest and most important Gothic hall church in the Upper Palatinate region. Its almost 100 metre high tower appears to rise right out of the river Vils. The church also contains the oldest bell in the town. Construction of the basilica commenced in 1421 and took almost 100 years to complete. It was financed by prosperous residents of the town.
Eh´häusl hotel
From 1728 if you wanted to have a church wedding you were required by law to prove that you owned a house. One clever Amberg resident came up with an idea to help out couples who didn't own any property - he built a little house between two neighbouring houses and sold it to couples wanting to marry, for as long as they needed to comply with the law. This house was soon named "Eh'häusl" in the local dialect - "the little marriage house". Today it is the smallest hotel in the world and somewhere you can enjoy all kinds of luxurious comforts.
Top of page
Map of Germany
Map showing all of Germany's TOP travel destinations...
Click here!
Search in surrounding area