Museums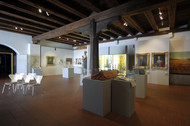 Amberg has a varied cultural scene - you can visit its large library and many museums or go to a concert or a play at the town theatre. A stroll through the old town is also highly recommended as this is where you can find many traces of Amberg's fascinating history. With its profusion of walls, towers and gates, the late medieval townscape of Amberg is one of the most impressive in all of Bavaria.
Municipal Museum
Amberg's Municipal Museum was founded in 1902 and is housed today in a warehouse building known as the "Baustadl" which dates back to the 15th or 16th century. It is a successful blend of museum and architectural monument with five floors of exhibits providing visitors with an insight into the region's development. There are sections devoted to the town's history, regional handicrafts and the history of textiles up to the present day as well as temporary exhibitions and special collections.
East Bavarian Mining and Industrial Museum
The Mining and Industrial Museum is located a few kilometres outside Amberg in the grounds of Hammerherren Palace in Theuern. In the palace itself there are themed exhibition rooms, but in the grounds of the museum there are also three monuments to regional industry - an iron hammer mill, a mine shaft and a glass grinding and polishing works.
Top of page
Map of Germany
Map showing all of Germany's TOP travel destinations...
Click here!
Search in surrounding area