Food & drink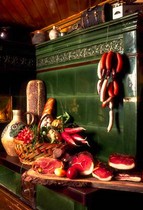 The Black Forest is famous for its good things to eat and drink. Nature's bounties are used by its gourmet chefs to create exquisite dishes. From a simple snack and a good, plain lunch to a lavish banquet - there's something special about every meal in the Black Forest. Dining in the restaurant at Hotel Kronen takes you on a culinary voyage through gourmet cuisine. Liebenzell Castle restaurant serves up unusual feasts, whilst pizzas, pasta, delicious ice creams and cappuccino are on the menu at Francesco's restaurant.
Liebenzell Castle restaurant and café
Who hasn't dreamt of feasting like a knight or lady in the Middle Ages? A medieval banquet is a very special experience here, starting with a fanfare and drum-roll to welcome the guests played by musicians in medieval garb who accompany them by candlelight into the castle's vaulted hall. The master of ceremonies announces the rules for the evening whilst the sight of cooks carving the roast meats really whets the appetite.
Kronen Hotel - restaurant
The restaurant's carefully prepared dishes taste twice as good at a beautifully set table overlooking the Nagold river. The popular trend for "cuisine vitale" is the chef's speciality. His secret is to use only fresh, seasonal food which is nutritional and naturally low in fat. Light, easily digested regional dishes, mediterranean herbs from the hotel's own garden, Ayurveda and vegetarian food complete the range on offer.
Francesco's restaurant
Italian food, such as pizza margarita, spaghetti carbonara, filetto al pepe, salata capriciosa, minestrone soup and home-made ice cream are served in an informal setting. As you eat you can watch the pizzas being made to order. Exclusive Italian wines by the bottle, regional German wines by the carafe and German beer are on the drinks menu, not forgetting mineral water bottled at Bad Liebenzell's own source.
Top of page
Map of Germany
Map showing all of Germany's TOP travel destinations...
Click here!
Search in surrounding area