Art & culture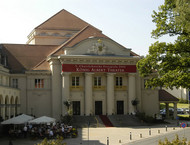 As well as heath and fitness facilities, Bad Elster also has a wide range of cultural attractions at sites of historical interest. Bad Elster can thank Dr Flechsig, a doctor specialising in spa treatments, for both its colourful past and current success. He also established the first spa museum. The King Albert Theatre can also look back on a long history. The buildings in Raun, once purely a farming village, are typical examples of traditional timber-frame constructions.
Saxony Spa Museum
The contemporary, high-quality spa museum in the KunstWandelhalle centre, is an important part of the Vogtland cultural area and is concerned with collecting, restoring and preserving cultural assets relevant to the history of Bad Elster. Visitors to the museum in the KunstWandelhalle cultural centre can see an extensive presentation on Saxony's largest spa town, ranging from a copy of the first document mentioning its name dating back to 1324 through to the splendours of the royal period and the present day. The Saxony Spa Museum also stages regular exhibitions on differing themes.
King Albert Theatre
The first performances in the King Albert Theatre on Brunneberg hill took place in 1888. In response to great public demand from all over Europe a "nature theatre" was built for the 1911 summer festival at the Waldquelle spring. It was the first outdoor theatre of its type in Saxony and was built to a design by Paul Schindel, the Royal Saxon Inspector of Gardens. The King Albert Theatre was also only suitable for use in the summer months and could no longer cope with rising audience numbers, so in 1912 the Royal Theatre Company commissioned the building of a prestigious, modern theatre. Following two years of construction the present "King Albert Theatre" was officially opened in May 1914 by His Majesty King Friedrich August II of Saxony. Today it is one of the foremost royal theatres.
Raun
This former farming village is a listed site of historical interest situated between Bad Elster and Bad Brambach in the upper Vogtland region and was first mentioned in records in the 14th century. It is a prime example of the method of timber-frame construction used at the end of the 18th / early 19th century. The village is known for its groups of agricultural buildings and enclosed farm yards. The examples of this vernacular construction method on show, using fieldstone, clay and timber, were influenced in their architectural style by Bohemian craftsmen, typically in their close-studded ground floor walls with upright exterior struts, bressumer beams and decorative gables typical of the Egerland region in the Czech Republic. As well as these Egerland-style half-timbered buildings, the village is also home to one of the oldest and best preserved chapels in the Vogtland, which was built between 1506 and 1534 and is striking for the simplicity of its design.
Top of page
Map of Germany
Map showing all of Germany's TOP travel destinations...
Click here!
Search in surrounding area