Suggested excursions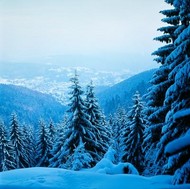 There's more to Saxony, the Erzgebirge mountains, the Vogtland and the spa and music town of Bad Elster than Christmas decorations and wooden toys. Ancient towns with historical attractions are just waiting to be explored and the Saxon Silver Mines Route - "Europe's biggest open-air museum" - welcomes you with a hearty "Glück auf!" (Good luck), the traditional miners' greeting. The Plohn Theme Park with its white-water log flume, Wild West saloon and land train is fun for all the family. Saxony's only dripstone cave is to be found beneath the hills of the Vogtland region.
Saxon Silver Mines Route
The Silver Mines Route, Saxony's first signposted scenic route, runs for approx. 230km starting in Zwickau, the town where Trabant cars were once made and ends in Dresden, where the silver filled the treasure chambers and came to be a measure of wealth. The region it runs through is remarkable and full of surprises with over 100 fascinating museums on a wide range of topics reflecting the historical development of Saxony. You may have to walk up hill and down dale, but it's a pleasure to visit all the region's castles and palaces, and places of myth, legend and enchanting tales. The region is famous far and wide for its wood carving and turning, its nutcrackers, "smoking men" incense burners, "angel of light" and pyramid Christmas decorations, and wooden toys.
Plohn Theme Park
Plohn Theme Park in Lengenfeld is a very special attraction for the whole family. As soon as you go through the entrance you are welcomed by a moving, talking tree. The fairytale castle and fairytale land transport visitors to the magical world of Hansel and Gretel, Rumpelstiltskin, Puss in Boots and Frau Holle - all characters in the tales told by the Brothers Grimm. Visitors will be enchanted by the Red Baron carousel, vintage car ride, kiddies' train ride, tour of "Gnomeland" and the Fantasy Show. Float by raft back to the Jurassic age and come face to face with life-size roaring dinosaurs, gigantic crocodiles and scary dragons.
Drachenhöhle Cave, Syrau
The cavern is labyrinthine and contains a number of underground lakes which are interconnected so the water level in them all is exactly the same. The water in the largest of the underground lakes is extremely clear and is a green colour due to its high content of dissolved limestone. The total length of the cavern is 550 metres, of which 350 metres are accessible. Guided tours introduce visitors to the beauty of the subterranean world and you will see fascinating stalactites and stalagmites and clay formations - a special feature of the Drachenhöhle (Dragon's Cave) - as well as the reflections in the crystal clear lakes and strange shapes made by sediments.
Top of page
Map of Germany
Map showing all of Germany's TOP travel destinations...
Click here!
Search in surrounding area