Events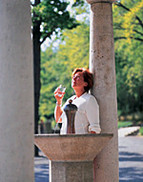 The Harz mountains are a place where ancient traditions are kept alive, and the cultural highlights on offer should simply not be missed. See how a whole community comes together to organise the Behringen Well Festival. Walpurgis Night is a satanic spectacle based on Teutonic traditions during which the powers of darkness give way to the powers of light at the start of summer in the northern hemisphere. Other major events include the medieval tournament at Regenstein Castle.
Behringen Well Festival
Every year on the last weekend in June the Behringen Well Festival is celebrated throughout the town. This is one of the highlights of the year with plenty of live music, a craft market, a parade, exhibitions and the election of the Well Fairy.
Walpurgis Night
Every year on the night before the first of May things start getting more than a little strange. The witches gather on Hexentanzplatz to fly up to Mount Brocken - or the Blocksberg - where they convene with the devil. The festive nature of this event makes it very popular; the wonderful blend of tradition, magic and eroticism appealing to people of all ages. The first Walpurgis bonfire was held back in 1896.
Medieval tournament
Every year on the last weekend in July, the medieval tournament is held against the historical backdrop of Regenstein Castle. After the tournament, visitors can enjoy the medieval music, hearty jokes and trickery or stroll around the castle market with its many stalls. There are also plenty of children's activities for aspiring young knights.
Top of page
Map of Germany
Map showing all of Germany's TOP travel destinations...
Click here!
Search in surrounding area