Health Resorts & Spas in Germany
top
Oberstdorf
Rest and recuperate in "Vitaldorf", the wellness village of Oberstdorf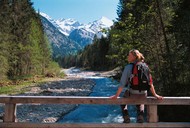 Oberstdorfer Kristall mineral water is pure, unadulterated health and fitness for the whole body. With its extraordinarily low sodium content of only 0.1 mg per litre, the water does wonders for your health. Oberstdorf water can reduce the risk of high blood pressure and circulatory illnesses, accelerate your metabolism and therefore combat the formation of kidney stones. It is used in the treatment of cardiovascular illnesses, angiopathy, musculo-skeletal disorders, respiratory illnesses, diseases of the digestive system, psychosomatic complaints, skin diseases, general infirmity and also during convalescence.
Top of page
Medical facilities

The many different modern health treatment facilities and clinics in Oberstdorf also offer naturopathic treatments such as hay baths, peat baths and mud baths. Physiotherapy, massage and saunas are also available in Oberstdorf as well as alternative health practitioners, specialist and general doctors, naturopaths, psychologists, breathing specialists, a dialysis centre and a centre for biological health treatments.
Top of page
Map of Germany
Map showing all of Germany's TOP travel destinations...
Click here!
Search in surrounding area