Nature & greenery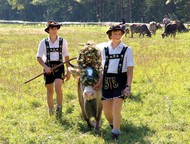 The climatic and hydrotherapy health resort of Oberstdorf lies in a fascinating region where Mother Nature distributed generously from her horn of plenty. It boasts mountain peaks at between 622 and 2,649 metres above sea level. Imposing mountains, countless crystal clear lakes and pleasant valleys give this region its distinctive character. Each year many visitors are drawn to the natural phenomenon that is Breitachklamm gorge and the source of the river Iller.
The Allgäu region
In the Allgäu region lush alpine meadows and gentle hills alternate with steep mountain peaks and romantic valleys. There are just as many things to do here in the winter as there are in the summer. Regardless of whether you want to go snowboarding, downhill skiing or cross-country skiing, there is a large number of ski resorts of different sizes, catering to different levels of ability.
Breitachklamm gorge
Not far from Tiefenbach lies the entrance to Breitachklamm gorge - a natural wonder without parallel. The waters of the Breitach river rush along the narrow canyon, with its almost hundred-metre high vertical and overhanging walls, thundering over high rock ledges, swirling through deep rock pools and scattering into fine droplets that sparkle in the sunlight. Many of the dark gorge walls have never seen the light of day. Deep green moss and delicate ferns love the moist conditions and some undaunted fir trees have daringly put down roots on the smallest rock ledges.
The river Iller
The river Iller has its source at the confluence of the three spring-fed streams of Stillach, Breitach and Trettach in Oberstdorf and at its headwaters, surrounded by stunning mountain scenery, there are easy grade I-II rapids. The Iller river cuts through the Northern Alps, flysch sandstone formations and the
Helvetikum
limestone rock face, and then flows through the moraine of the piedmont glaciers, through wide, gravel-filled meltwater valleys carved deep into the Tertiary layer and finally empties into the river Danube at Neu-Ulm with a wide alluvial fan.
Top of page
Map of Germany
Map showing all of Germany's TOP travel destinations...
Click here!
Search in surrounding area