Art & culture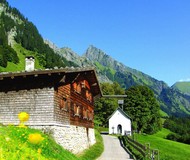 The Oberstdorf Local History Museum is a goldmine for lovers of history and all open-minded visitors. The New Gerstruben Museum has exhibits on the history of a former mountain settlement and at the Cambodunum Archaeological Park you can visit an old Roman settlement.
Local History Museum
This old farmhouse is one of the few wooden buildings in the centre of the village which survived the great fire of 1865. Low-ceilinged rooms, panelled walls and ceilings, and split wooden floorboards bring the fascinating history of the place to life. The bedroom where the farmer and his wife sleep is called the "Gaden". At the head of the large four-poster double bed there is a latched wooden peephole into the barn. The farmers never stopped worrying about their precious cattle even during the night.
New Museum in Gerstruben
Today the former alpine village of Gerstruben has five houses and one chapel which are all between 400 and 500 years old. This settlement used to be home to alpine farmers and their families until the end of the 19th century and today belongs to the "Oberstdorfer Rechtler" society. Especially worth seeing is "Jakob's house" which has been preserved almost in its original state together with its traditional farmer's garden. The picturesque rooms and chambers, the kitchen, stables, hay loft and threshing floor are fitted out with the original fixtures and fittings.
Cambodunum archaeological park
After more than 100 years of excavations, some areas of the former ancient settlement of the Roman town of Cambodunum (today known as Kempten) are now open to the public as part of an archaeological park. The park is divided into three sections. In the first section you can visit a part-reconstruction of the Roman town of Cambodunum on the original foundations of the Gallo-Roman temple district. The second section contains the ruins of the "small hot springs" of the governor's palace which are under a protective roof. The third section includes parts of the forum, such as the basilica - the large assembly room of a Roman city, which are marked out and fully accessible.
Top of page
Map of Germany
Map showing all of Germany's TOP travel destinations...
Click here!
Search in surrounding area