Boppard / Bad Salzig - Other areas of interest
Top of page
Nature & greenery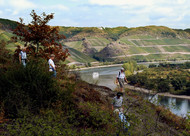 Nature lovers, botanists and ornithologists will all be in their element in Boppard and its surrounding countryside. Fine wines from the Middle Rhine region originate on the slopes of Bopparder Hamm, the largest loop of the Rhine. Jakobsberg golf course is a golfer's paradise. Enjoy the stunning scenery around the meandering Moselle river.
Bopparder Hamm
The sunny southern slopes of Bopparder Hamm, the largest loop of the Rhine, are where world-class wines are produced. This naturally has something to do with the fantastic location of the vineyard slopes, which are some of the steepest in Germany, but it is also due to the many hundreds of years of accumulated knowledge and experience passed down through generations of local wine-producers. The oldest recorded mention of vineyards in the Upper Middle Rhine Valley in 643 AD refers to Boppard. Today there are twelve full-time wine producers cultivating the 75 hectares of vineyards.
Jakobsberg golf resort
The estate on Jakobsberg hill formerly belonged to an abbey and is now, due to its exclusive location, the site of the Jakobsberg golf resort. The golf course is surrounded by forests, hills, castles and palaces and also has stunning views of the river valley. This 18-hole championship course was built in the early 1990s above the legendary valley of the Loreley, based on a design by the famous American golf course designer Robert Trent Jones jr. All levels of golfers, from professionals to novices are welcome here. The resort organises golfing events and offers introductory courses with expert instruction.
The Moselle
At 545km long, the Moselle is the longest tributary of the Rhine, known around the world for its romantic river scenery and fantastic wine. The meandering river valley with its steep vineyard slopes could be compared to a natural, vine-bedecked amphitheatre. Convivial wine tastings give you a great opportunity to stock up your wine cellar and are a great excuse for getting out and enjoying the unique, meandering landscape.
Top of page
Map of Germany
Map showing all of Germany's TOP travel destinations...
Click here!
Search in surrounding area