Art & culture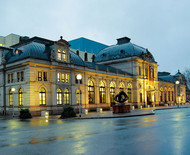 There are performances by internationally renowned classical musicians at the Festival Hall, the second-largest opera house and concert hall in Europe. The Museum Frieder Burda is designed by award-winning architect Richard Meier. It displays major examples of classical modernism and Expressionist works (Macke, Picasso, Miró, Beckmann, Pollock and others).
Festival Hall
With 2,500 seats, the Festival Hall is Europe's second largest opera and concert house. The light, generously proportioned building combines the glamour of the
belle époque
with the architectural avant-garde of the present day. The acclaimed acoustics and proximity of the audience to the stage both play their part in ensuring that a visit to the Festival Hall is an unforgettable experience. There are several festivals a year, bringing classics from the worlds of music, opera and ballet to Baden-Baden. World-famous orchestras, soloists and companies grace the Festival Hall stages to perform an equally high-calibre repertoire.
The Museum Frieder Burda
The internationally renowned Museum Frieder Burda contains 550 works of classical modernism and contemporary art. The museum specialises in German artists of the classical modernism school, with works by such artists as Kirchner and Beckmann, and American abstract expressionists such as Rothko, de Kooning und Pollock. Other highlights include groups of works by Baselitz, Rainer, Richter and Polke and a collection of the later works of Picasso.
Baden-Baden State Art Gallery
The neo-classical
Kunsthalle
state art gallery, in the beautiful setting of Lichtentaler Allee, was built between 1907 and 1909 by architects Hermann Billing and Wilhelm Vittali. The Baden-Baden State Art Gallery has special exhibitions of contemporary art of the highest international calibre. The Baden-Baden bridge links this art gallery to the Frieder Burda Collection. At least once a year a large exhibition is staged jointly by the two institutes.
Top of page
Map of Germany
Map showing all of Germany's TOP travel destinations...
Click here!
Search in surrounding area