Medical facilities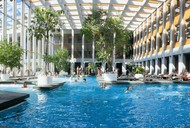 The old-established health resort of Bad Saarow with its wide range of local health treatments is one of most modern spa resorts in Europe. Treatments are available for cardiovascular diseases, musculo-skeletal disorders, rheumatism, respiratory illnesses, gynaecological disorders, children's illnesses, skin diseases, general weakness and convalescence.
Humaine Klinikum at Bad Saarow-Pieskow
This is a Brandenburg acute hospital and tumour centre and a teaching hospital of the Berlin Charité Universitätsmedizin medical school. This hospital has twelve clinics, three teaching institutes and a pharmacy. Treatments are available for cardiovascular diseases, internal illnesses and cancer.
Haus an der Sonne pregnant women's spa
The therapies on offer here are tailored to the care and treatment of women with high-risk pregnancies. Treatments are available for the prevention of premature delivery and miscarriage as well as reducing the risks for pregnant women.
Top of page
Map of Germany
Map showing all of Germany's TOP travel destinations...
Click here!
Search in surrounding area