Nature & greenery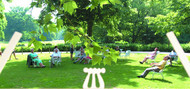 In addition to health treatments, art and culture, there are many other reasons to visit Bad Kissingen. Some visitors come here solely for the spectacular countryside and delicious Franconian wines. You can get up close to nature on the "Trail of the Giant Trees" or awaken other senses in the magical garden of sounds. Those who want to enjoy nature in solitude can try angling on the River Saale.
"Trail of the Giant Trees"
An enchanting walk through ancient woodland - on the "Trail of the Giant Trees" you will find information boards telling you the type, size, girth and wood content of these wooden giants. The trail starts from Klaushof zoo and is easily accessible on Bad Kissingen's spa train, which regularly runs between the circular flowerbed at the spa gardens and the zoo. Other gems include the nearby Kaskadental valley. The idyllic path that runs along the banks of a stream is ideal for a woodland walk.
Garden of Sounds
An oasis of relaxation. Soft music floats out of eight loudspeakers placed in trees around the garden. The natural and celestial sounds combine with the birdsong in the park to create a relaxing atmosphere.
River Saale
One of the most beautiful rivers in Lower Franconia, the River Saale is filled with fish. Because of its excellent water quality, the river is home to brook trout, grayling, nase, carp and tench, as well as predators such as eel and wels catfish. However, if you do wish to go angling on the River Saale, you will need a valid fishing licence.
Top of page
Map of Germany
Map showing all of Germany's TOP travel destinations...
Click here!
Search in surrounding area