Food & drink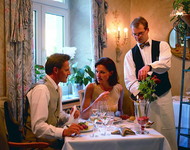 A visit to Bad Kissingen is always a memorable experience and hospitality is something of a tradition here. In the early 19th century, the watchmen used to greet every visitor at the town gate with three blasts from their trumpets. Today, you will receive an equally warm welcome in your hotel where staff are committed to providing a friendly service and meeting their guests' every need.
Westpark Hotel Restaurant
The restaurant offers classic therapeutic fasting according to the Buchinger method, as well as low calorie dishes, wholefoods and vegetarian options, all of which is a feast for the eyes as well as the tastebuds. There is plenty of fresh, light cuisine on offer for those on a weight-loss or detox diet. The menu also features fish, poultry, wonderful salads and, naturally, some of the best Franconian wines. Every mealtime in the cosy dining room, which offers great views of the lush surrounding scenery, is guaranteed to be a gourmet experience.
Frankenland Hotel - Frankenland-Stube Restaurant
The Frankenland-Stube is a typical Franconian restaurant with a rustic atmosphere. The wooden-clad dining room is the ideal place to experience true Franconian hospitality. As you would expect, the menu features a range of regional specialities, accompanied by a glass of famous Franconian wine or a beer fresh from the barrel.
Bristol Hotel - "The Rose" Restaurant
This stylish restaurant offers a variety of sumptuous regional and international specialities. Guests can also enjoy light summer cuisine, barbecues and jazz brunches on the hotel's garden terrace or a hearty veal sausage dinner and a beer in the beer garden.
Top of page
Map of Germany
Map showing all of Germany's TOP travel destinations...
Click here!
Search in surrounding area