Nature & greenery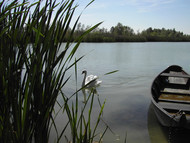 With the Bavarian Forest National Park, Lower Inn European nature reserve and walking trails through the Bavarian Forest to Bohemia on the border with the Czech Republic, the surrounding countryside offers a striking contrast to the modern health resort, giving Bad Füssing a unique charm of its own.
Bavarian Forest National Park
In the wooded landscape that stretches from the Danube to the Bohemian Forest and the Austrian border, the Bavarian Forest National Park enjoys special protection. Visitors can look out for wild boar, otters, brown bears and bison, sit down for a rest on one of the comfortable benches shaded by tall trees, or enjoy leisure activities and spending time with the family in this enchanting setting. With a clearly marked network of footpaths and cycling trails offering shelters, benches and stop-off points, the National Park is an ideal destination for walking and cycling tours.
Lower Inn European Nature Reserve
The Lower Inn European nature reserve runs along a 55-km stretch of river on the Bavarian/Austrian border, from the mouth of the Salzach near Haiming downriver to the mouth of the Rott near Neuhaus/Schärding. Consisting mainly of water, mudbanks and islands, this nature conservation area and bird sanctuary still has unspoilt ancient woodland that is home to rare flora and fauna. Walking along the Lower Inn is an unforgettable experience at any time of year.
Bavarian Forest
Known as the "green roof of Europe", the Bavarian Forest is the largest contiguous area of mountainous woodland in central Europe and an exceptional location for hiking and cycling enthusiasts. With more than 130 peaks of over 1,000 metres in altitude, the Bavarian Forest offers some fantastic hikes stretching from the Danube to the Bohemian Forest. With everything from historical trading routes to trails following in the footsteps of the salt and glass traders, the possibilities are simply endless.
Top of page
Map of Germany
Map showing all of Germany's TOP travel destinations...
Click here!
Search in surrounding area