Suggested excursions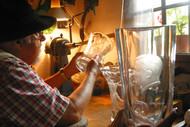 The area around the spa resort of Bad Füssing has a number of interesting historical attractions. A trip to Passau, the "town of three rivers" on the banks of the beautiful blue Danube, is always well worthwhile. Alternatively, like Empress Sisi, you too can enjoy a romantic boat trip to Austria.
Passau - the "town of three rivers"
Passau is a town that has been shaped by more than two thousand years of history. Don't miss out on a visit to the cathedral with the world's largest church organ, a tour of Oberhaus fortress or a boat trip on the town's three rivers. Due to its unusual location at the site where the Danube, Inn and Ilz rivers converge and its magnificent Italianate baroque townscape, this former prince-bishop's residence has earned itself the nickname of "Venice on the Danube". Passau is also known far and wide for its festivals, university, shopping and, not least, for its conferences.
Glass Route
The Glass Route runs for approximately 300km through the Bavarian and Upper Palatinate Forest from Neustadt an der Waldnaab - Europe's lead crystal capital - to the Passau Glass Museum where 15,000 examples of glassware from a range of different eras are on display. Glassworks here were creating works of art as long as 500 years ago, and they are still an important part of the local economy today. There is a great deal to see in this "glass kingdom" and many treasures to discover: rare and exquisite glass objects - some centuries old, some finished just a few minutes ago - in museums, galleries and glassworks. Visitors can also watch the glassblowers going about their work at many show glassworks along the route.
Top of page
Map of Germany
Map showing all of Germany's TOP travel destinations...
Click here!
Search in surrounding area