Places of interest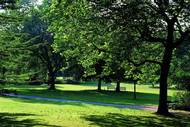 For 200 years life in Bad Driburg, with its state-approved mud and mineral spas, has centred around health and wellbeing. The culture and history of the town and its beautiful surrounding countryside are just waiting to be discovered. The royal spa gardens and the region's castles and palaces are well worth seeing.
Royal Spa Gardens
The 60 hectares of spa gardens with their pathways, fountains and rose garden are just the place to find some peace and quiet in which to relax. The historical spa assembly rooms, built in a neo-classical country house style, the old English oaks, exotic gingko trees, rare Sumatran maples and magnificent herbaceous borders bear testament to Bad Driburg's 200-year history as a spa town. The spa gardens also have their own health farm.
Dringenberg Castle
This medieval castle in Dringenberg, with its banqueting halls, chapel, brewhouse, vaulted cellars and tithe barn dates back to the 14th century (1318 - 1323). Until the 19th century it was the summer residence of the Archbishops of Paderborn. The inner courtyard with its 40 metre draw well is an example of the Weser Renaissance style of architecture. Today the castle houses a natural history museum.
Neuenheerse Moated Palace
In 868 Bishop Luithard of Paderborn founded an imperial, secular residence for noble ladies in the town of Heerse. In around 1600 the Abbess' house was turned into a Weser Renaissance-style moated palace. Today it is privately owned and houses natural history, ethnology and local history museums. In an exhibition space of around 1,500 square metres there are around 300 specimens on display, together with more than 1,000 genuine ethnological and hunting objects, all classified by continent. One of the museum's special attractions is its fascinating collection of all the large mammals from around the world.
Top of page
Map of Germany
Map showing all of Germany's TOP travel destinations...
Click here!
Search in surrounding area