Contact
Gäste- und Gesundheitszentrum
Rauchstrasse 2
34454 Bad Arolsen
Email:
ggz@bad-arolsen.de
Internet:
Nature & greenery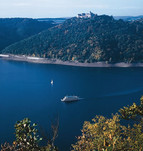 Nature, health and culture go hand in hand in Bad Arolsen. You'll never get bored during a stay in this spa town with its baroque palace, wide tree-lined avenues and well-kept town houses. The rolling hills of the Waldecker Land region are only two or three hours away by car from cities on the Rhine, Main and Ruhr rivers. There are almost endless cycling and walking trails running through unspoilt countryside.
Waldecker Land region
The Waldecker Land region is also a land of water, surrounded by green and pleasant hills. The many different kinds of watersports on offer mean that man and nature can be in perfect harmony, whether taking a diving course in Lake Edersee, going sailing on Lake Diemelsee or waterskiing on Lake Twistesee.
Kellerwald-Edersee nature reserve and national park
Beautiful upland scenery awaits visitors to the nature reserve. Idyllic woodland villages are dotted about a picturesque cultivated landscape. Meadows filled with colourful flowers adorn gentle valleys and hills. Clear streams fed by hundreds of pure springs run through broad woodland and adorn the patchwork of fields and meadows. There are modern information centres and a wildlife park which has displays of birds of prey. Both provide information on the special features of the region and allow contact with indigenous animals.
"Große Allee" avenue
Große Allee
avenue is a green space which passes through almost the entire centre of the town. 1.6 kilometres long and lined with around 880 oak trees in rows of six, it is the most famous tree-lined avenue in Bad Arolsen. It was designed in 1670 by Prince Georg Friedrich and connected the Charlottenthal summer residence in Thieletal valley with Hünighausen dairy farm and the Renaissance Palace.
Top of page
Map of Germany
Map showing all of Germany's TOP travel destinations...
Click here!
Search in surrounding area