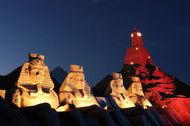 Sand World is a first-rate festival. For two months in the late summer, Travemünde beach is transformed into a sculpture park featuring the most bizarre constructions made from nothing more than water, sand and ingenious creative skill.
Sand and nothing but sand
Sculptors from around the world create some of the most incredible sculptures using nothing but sand, water, creative detail and a great deal of technical skill. If you are interested, you can get your own hands dirty and take part in a two-hour workshop on the art of sculpture held every day. In addition to the exhibition, there are regular evening events and a special programme for children.