Sachsenring racetrack - Other areas of interest
Top of page
Shopping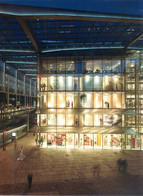 The nearest towns and cities to Sachsenring racetrack, namely Dresden, Zwickau and Chemnitz, offer a diverse range of shopping opportunities. Dresden's Königsstrasse abounds with exclusive stores, Zwickau's pedestrianised areas are perfect for strolling around the shops and Chemnitz has a myriad of watering holes for resting your weary shopping feet.
Chemnitz
The modern arcades and smaller stores that surround Chemnitz's old and new town halls are perfect for both window-shoppers and shopping addicts, offering an incredibly diverse range of goods. What's more, the multitude of inns, bars and clubs in the city are ideal for unwinding in the day or partying at night.
Zwickau
Shoppers never tire of Zwickau with its compact town centre layout. You can amble quickly and easily between the shops, boutiques and restaurants in the pedestrianised areas, and there's also great shopping to be had in the Zwickau Arcades and the "Glück Auf" shopping centre.
Dresden
Dresden's main shopping streets – Prager Strasse, Altmarkt and Wilsdruffer Strasse – have department stores, large fashion chains and over 100 shops in the Altmarktgalerie mall. For more exclusive shopping, cross the Elbe and head for Königstrasse in the Neustadt district.
Top of page
Map of Germany
Map showing all of Germany's TOP travel destinations...
Click here!
Search in surrounding area