Sachsenring racetrack - Other areas of interest
Top of page
Museums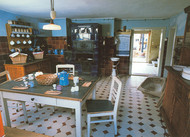 Saxony's kaleidoscopic range of museums gives visitors much to choose from. A fascinating museum complex in Blankenhain Palace brings together a wide variety of exhibitions, while the priests' houses in Zwickau show how the clergy lived in the Middle Ages. Chemnitz's "DAStietz" cultural centre meanwhile, houses a natural history museum and the New Saxony Gallery.
Blankenhain Palace
Unique in Germany, this complex boasts an open-air museum, a palace museum, a technology museum and a folklore museum, as well as the Saxony agriculture and brewing museum and the regional open-air museum of western and central Saxony and eastern Thuringia. To help bring these exhibitions to life, there are special events and educational projects. The museum complex is particularly fascinating because all of the buildings have been preserved more or less in their original condition, from the feudal estate with its residential building and service quarters to farm houses and garden sheds.
Priests' houses in Zwickau
These four two-storey houses are among the oldest remaining residential buildings in Germany. Situated just a stone's throw from St. Mary's Cathedral, they served as administrative buildings for the priesthood of the Church of St. Mary until the time of the Reformation. Many of the ceilings, windows and doors of the houses are still preserved in their original condition. As well as being a reminder of how the medieval urban middle classes used to live, the priests' houses now serve as a town history museum and a venue for special exhibitions.
"DAStietz" cultural centre in Chemnitz
Originally built as a department store this building now houses the town library, an adult education centre, a natural history museum and the New Saxony Gallery. The natural history museum is one of the oldest museums in Chemnitz, featuring fossils, precious stones and crystals shaped by fires deep within the earth. It also has specimens of long-extinct and living species of animals from several continents. In the New Saxony Gallery you can get a closer look at Saxony's contemporary art scene.
Top of page
Map of Germany
Map showing all of Germany's TOP travel destinations...
Click here!
Search in surrounding area