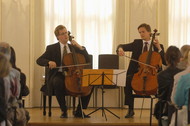 Every year on Ascension Day Leipzig welcomes an international audience to the Bach Festival in celebration of the famous erstwhile cantor of St. Thomas' Church.
The music of Bach brought to life
At Leipzig's Bach Festival, the works of the great composer are performed by internationally acclaimed musicians in venues associated with the great former cantor of St. Thomas' Church's. Alongside Bach's Masses, the festival also boasts orchestral and choral works as well as organ and symphony concerts. The programme is complemented by special exhibitions and events.