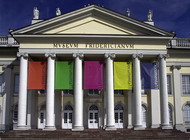 Since 1955, Kassel has provided the setting for the world's most important exhibition of contemporary art. New exhibition concepts are showcased alongside current trends that are moving the modern art scene.
Perspectives on contemporary art
For 100 days Kassel becomes the focus of the international art world. Alternating exhibition curators present their perspectives on cutting-edge contemporary art, and how its movements, philosophies and theories mirror modern-day society. It only takes place every five years, so don't miss it.