Suggested excursions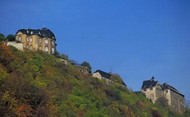 A trip to the historic town of Naumburg on the Saale river and a short stop in the town of Dornburg with its three fascinating palaces should be on everyone's itinerary. There's even more art, culture and stunning scenery just waiting to be discovered along the Classics Route. Saxony's castle and heathland region is another nearby attraction with its more than 140 magnificent castles and idyllic countryside.
Naumburg
The town of Naumburg lies 33km outside Jena and is one of the most beautiful towns in eastern Germany. This cathedral town flourished in the Middle Ages as an important centre for trade and commerce. Imposing town houses, the town's fortifications, the splendid market square and the famous cathedral of St. Peter and St. Paul, which dates back to the 13th/14th centuries, are testament to Naumburg's eventful history.
Classics Route
There are many lovely destinations along the Classics Route, a 350km circular route which winds its way from one classical town to the next and provides a unique link between areas of natural beauty in the state of Thuringia and historic towns and villages. Visitors can explore the many castles and palaces with their rich and colourful histories as well as the charming valleys and rocky canyons of the Saale and Schwarza rivers.
The Palaces of Dornburg
The town of Dornburg lies 15km outside Jena and has three fascinating palaces. On the steep slope above the Saale river are the impressive structures of the Renaissance and rococo palaces and the old palace. In the Renaissance palace you can visit the room where Goethe once stayed. The historic palace gardens are also well worth a visit.
Top of page
Map of Germany
Map showing all of Germany's TOP travel destinations...
Click here!
Search in surrounding area