Garmisch-Partenkirchen - Other areas of interest
Top of page
Shopping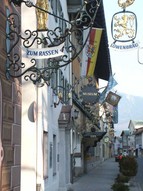 A stroll through the streets and lanes of Garmisch-Partenkirchen will give you a feel for the town's very special combination of international flair and Bavarian tradition. The elegant shops, art galleries and antique stores selling traditional crafts and original souvenirs make this a fascinating place to shop.
"Historic Ludwigstrasse"
Ludwigstrasse has been part of the main Alpine route since Roman times. Around 1,000 years ago it was the main trading centre in the Werdenfels region. Today, "Historic Ludwigstrasse" in the heart of Partenkirchen is a street for shopping and strolling, a place to see and be seen. It also boasts a number of traditional Alpine inns and restaurants.
Top of page
Map of Germany
Map showing all of Germany's TOP travel destinations...
Click here!
Hotels in Garmisch-Partenkirchen
Search in surrounding area