Garmisch-Partenkirchen - Other areas of interest
Top of page
Nature & greenery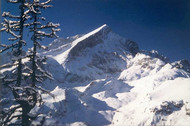 As well as the well-known St. Anton's chapel and gardens, and the Kramerplateau trail with its Kneipp pools, the spa park offers an all-round sensory experience. There are endless ways of enjoying the Alpine scenery: whether walking in summer or on skis in winter, the fresh air and breathtaking views are always free. Or what about a trip in a horse-drawn sleigh through the wintry woods?
Zugspitze mountain
A trip up the Zugspitze, Germany's highest mountain (2,962 metres) with the rack-railway and the Eibsee cable car is a "must" for any visitor. The panoramic views of the surrounding peaks are unparalleled. And when you reach the top, there is even an art gallery to visit.
The Alpspitze
Garmisch-Partenkirchen's famous landmark is the Alpspitze mountain (2,628m) – to "conquer" its peak visitors have the option of a leisurely stroll or a more energetic walk along some of the 100 kilometres of mountain paths and health and fitness tracks. During winter, the snow-covered trails have a special magic of their own.
Partnachklamm gorge
The spectacular Partnachklamm gorge was declared a natural monument in 1912. It is around 800 metres long, has an ascent of around 90 metres and can also be visited in winter when the walls of the
Klamm
often form weird and wonderful ice sculptures, giving the gorge a special charm all of its own.
Top of page
Map of Germany
Map showing all of Germany's TOP travel destinations...
Click here!
Hotels in Garmisch-Partenkirchen
Search in surrounding area