Other highlights
Contact

Regional specialities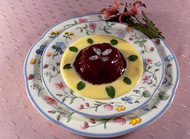 Hamburg is a food lover's delight. Choose from dishes ranging from fresh fish in a harbourside restaurant to every kind of international speciality.
Labskaus is a hearty but healthy stew that originated on board ship at a time when the great sailing ships had to take provisions for voyages lasting months on end. Labskaus is served with rollmop herrings, fried egg and pickled gherkins, and should be washed down with beer and schnapps.
Hamburg "aalsuppe" (eel soup) is a stock made from meat cooked on the bone garnished with vegetables and most importantly, dried fruit. Its typical sweet and sour taste comes from the addition of vinegar.
Red fruit compote ("rote grütze") consists of blackcurrants, raspberries and cherries boiled with water then sieved to remove the pips and sweetened with sugar and thickened using cornflour. It is served with custard, cream or cold milk.
Top of page
Map of Germany
Map showing all of Germany's TOP travel destinations...
Click here!
Highlights in brief
Shopping
Mönckebergstrasse, Spitalerstrasse and Neuer Wall
Fish market
Long-established market for night owls and early risers
Harbour
Second largest container centre in Europe, Outer and Inner Alster, Alsterpark
St. Pauli
Entertainment district
Town hall
Magnificent neo-classical building and seat of the state government
St Michael's Church ("Michel")
Oldest and most beautiful baroque church in northern Germany Planten und Blomen
Botanical gardens
Hagenbeck zoo
Kunsthalle art gallery, "art museum mile"
Warehouse district
Largest historical warehouse complex in the world