Contact

Highlights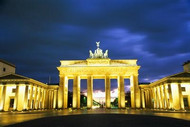 Visitors to Berlin are spoilt for choice when it comes to its incredible number of tourist attractions. The Reichstag, Museum Island, Charlottenburg Palace and Potsdamer Platz are just some of the German capital's fantastically varied range of world-class sights.
The Reichstag is the seat of the German parliament, and with its cutting-edge glass dome it is the most popular attraction in Berlin. Its troubled history is a reflection of turbulent times in German history from the 19th century onwards. The dome is open to the public and provides a fantastic panoramic view of the city.
In October 1961, Soviet and US tanks faced each other at Checkpoint Charlie, also the location of countless demonstrations and dramatic escape attempts. Nowhere else in the city was the atmosphere of the Cold War so palpable.
The Brandenburg Gate, Berlin's most famous landmark, was modelled on the Propylaea, the gateway to the Acropolis. The quadriga chariot by Johann Gottfried Schadow was added to the sandstone arch in 1793.
The futuristic architecture of Potsdamer Platz presents a striking contrast to the historical buildings in Berlin Mitte. Its mix of restaurants, shops, theatres and cinemas makes Potsdamer Platz one of the city's most popular leisure and shopping destinations.
Top of page
Map of Germany
Map showing all of Germany's TOP travel destinations...
Click here!
Highlights in brief
Brandenburg Gate
Kurfürstendamm
Victory Column
Reichstag
Planetarium
Memorial Church
Charlottenburg Palace
Museums, Museum Island
Wildlife park, zoo, aquarium
Potsdam, Sanssouci Palace