Health Resorts & Spas in Germany
top
Baltic resort of Binz - Other areas of interest
Top of page
Places of interest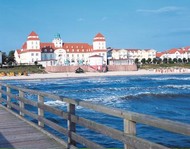 The island of Rügen is a fabulous destination at any time of year. There's so much to explore, from old, tree-lined avenues, lush meadows, verdant forests and thatched fishermen's houses to towering lighthouses, romantic harbours and jagged cliffs, not to mention the gently curving bays with their never-ending views out to sea. The Kurhaus-Saal hall, part of the Kurhaus hotel complex, has been rebuilt, restoring it to its former glory, while Binz thermal baths are perfect for getting away from it all.
Kurhaus-Saal hall
A perfect blend of tradition and modernity, the Kurhaus hotel in Binz, with its renowned Kaiserhof wing and the Kurhaus-Saal hall, was built towards the end of the 19th century. A shining example of German spa resort architecture, it is a truly magnificent complex – imposing, well-proportioned and elegant. The Kurhaus-Saal hall itself was completely restored according to the original plans. Only a few details were changed to allow for state-of-the-art lighting, and circles were added to create more of a theatre-style feeling.
Binz Pier
The first pier in Binz was built in 1902. Made from wood and measuring 560 metres in length, it was destroyed just two years later in a vicious storm. The people of Binz rebuilt it in 1905, and in 1910 christened it the "Prinz Heinrich Brücke" (Prince Heinrich Pier). In 1912 a steamer crashed into the pier while attempting to moor and around 50 people were thrown into the water. It had deteriorated significantly by 1942, when it was completely wrecked by a harsh winter, and was only rebuilt as recently as 1994. Passenger ships call once again at the 370 metre long structure, picking up visitors for the chalk cliffs, Cape Arkona, and the towns of Sassnitz, Sellin and Göhren as well as the islands of Usedom and Bornholm. Every year the people of Binz invite holidaymakers to join in the celebrations for their two-day pier festival, which culminates in a spectacular fireworks display that lights up the sky above the pier.
Binz thermal baths on Rügen
Binz thermal baths offers a winning blend of pool and sauna facilities and revitalising wellness and beauty treatments. Situated on one of the finest beaches on the island of Rügen, this haven of relaxation and wellbeing is built around the only thermal saltwater spring along Germany's Baltic coast, the richest coastal iodine spring in Europe. Pure spring water, more than 220 million years old, wells up directly into the two swimming pools from a depth of up to 1,200 metres. Bathing in the saltwater, which reaches temperatures of up to 35ºC, is beneficial for all aspects of health. It is also well worth taking advantage of the impressive sauna facilities.
Top of page
Map of Germany
Map showing all of Germany's TOP travel destinations...
Click here!
Search in surrounding area