Health Resorts & Spas in Germany
top
Baltic resort of Binz - Other areas of interest
Top of page
Medical facilities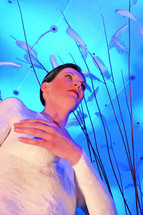 The natural conditions found in the Baltic resort of Binz are essential to successfully restoring health and vitality. Emphasis is placed firmly on sunlight, fresh sea air, woodland walks, saltwater and Rügen's medicinal chalk. Their beneficial effects are undisputed for rheumatic and dermatological conditions, as well as in beauty treatments. A variety of therapeutic treatments are available for non-residential health cures, including chalk packs, medicinal baths, migraine therapy, moxa therapy and therapeutic fasting.
Bernsteinklinik Binz
Specialist clinic and rehabilitation centre for children, offering residential health cures, parent-child health treatments, childcare facilities and schooling, as well a wide variety of leisure activities. A team of paediatric specialists are on hand to assist you every step of the way. Treatments are available for diseases of the kidneys and urinary tract, skin complaints and metabolic disorders.
Herford children's rehabilitation clinic
For children and young people from the ages of 3 to 18. The clinic's location on the shores of the Baltic with its balanced sea climate makes it particularly suitable for respiratory illnesses and skin conditions. During their stay in the clinic, children receive schooling and booster lessons that use the curriculum followed by their own schools, and they can also make use of computers with appropriate educational software. Treatments are available for respiratory illnesses, lung disease, childhood illnesses, skin diseases, psoriasis, neurodermatitis, dermatological complaints, metabolic problems, musculo-skeletal disorders and orthopaedics.
Top of page
Map of Germany
Map showing all of Germany's TOP travel destinations...
Click here!
Search in surrounding area