Health Resorts & Spas in Germany
top
Baltic resort of Binz - Other areas of interest
Top of page
Art & culture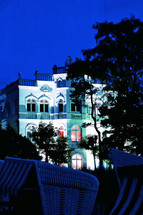 Take a stroll through the town of Binz and marvel at the town's late 19th century architecture and mediterranean atmosphere. A tranquil, early-morning walk along the beach promenade with its villa-style buildings is the perfect way to start your day. No visit to Rügen is complete without a ride on the "Racing Roland" steam train. The viewing platform at Granitz Hunting Lodge offers breathtaking panoramic views across Rügen's stunning landscapes.
Spa resort architecture
Binz, Rügen's largest resort, has an abundance of magnificent houses in a style typical of German spas, which have earnt it the nickname the "Sorrento of the north". The majestic villas along the beach promenade and in the town centre hail from the town's heyday from the end of the 19th century to the middle of the 1920s. A large number of these houses with their filigree ornamentation and rosettes have now been lovingly restored and modernised.
"Racing Roland"
A "museum on wheels" and one of the last remaining narrow-gauge railways in Germany. Now listed as a historic technological achievement, this steam-powered railway has been transporting holidaymakers around the island for over 100 years, linking the Baltic resorts of Göhren, Baabe, Seelin and Binz with the former royal seat of Putbus.
Granitz Hunting Lodge
This late neo-classical hunting lodge lies to the south of Binz on Tempelberg hill in the heart of Granitz forest, a woodland area covering 1,000 hectares. It was built between 1837 and 1846/51 for Prince Wilhelm Malte I of Putbus in the style of a north-Italian Renaissance castle. The 38 metre-tall central tower, which is open to the public, was designed by the renowned German architect Karl-Friedrich Schinkel. Now used as a museum, its historical rooms provide an insight into royal life in the 19th century. On the roof of the tower, 145m above sea level, a viewing platform offers awe-inspiring panoramic views in all directions.
Top of page
Map of Germany
Map showing all of Germany's TOP travel destinations...
Click here!
Search in surrounding area