Health Resorts & Spas in Germany
top
Baltic resort of Binz - Other areas of interest
Top of page
Events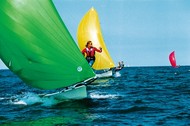 There's always something going on in the Baltic resort of Binz, no more so than in summer, when this spa town is transformed into a venue for all kinds of events. The Störtebeker festival features an awesome programme of medieval events, and you'd be a fool to pass up on a visit to the Rügen "kabarett" festival.
Störtebeker Festival
Every year in the splendid setting of the Ralswiek Palace gardens, the tale of the infamous pirate Klaus Störtebeker is performed on the largest open-air stage in Europe. Countless myths and legends surround this buccaneer, who was the scourge of the Baltic Sea in the 14th century. The festival captures the imagination of thousands of visitors every year.
Rügen "kabarett" festival
Every year from August to September, the Rügen "kabarett" festival offers a comprehensive and eclectic programme of comedy and entertainment.
Top of page
Map of Germany
Map showing all of Germany's TOP travel destinations...
Click here!
Search in surrounding area