Health Resorts & Spas in Germany
top
Baltic resort of Binz - Other areas of interest
Top of page
Suggested excursions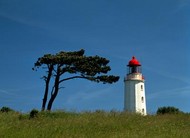 The island of Rügen is an idyllic gem of an island, blessed with a sunny climate, romantic harbours, tree-lined avenues and gorgeous spa architecture. In the Mönchgut region you will find a surprisingly varied range of landscapes and scenery, while a trip along the Swedish Heritage Route tells the story of Germany's history with its Scandinavian neighbour. The island of Hiddensee is a natural paradise with an almost magical appeal.
Mönchgut peninsula
Middelhagen is located in the south-east of Rügen, once the location of the estates of the Monks of Greifswald, where the island abounds with inlets, headlands and bays. The village is surrounded by pretty little houses and with low-ceilinged, thatched fisherman's cottages. Göhren, the largest town on the Mönchgut peninsula, marks the beginning of the German Avenues Route, which runs across Rügen, all the way to Lake Constance in the very south of Germany. Traditional resorts and the unspoilt nature of the biosphere reserve in south-east Rügen combine to create a unique region of outstanding natural beauty, which boasts many things to see and do.
Swedish Heritage Route
The Swedish Heritage Route is a 700km-long trail that chronicles the cultural history of the Swedes in Germany. It stretches from the island of Rügen in the North to Grossbeeren south of Berlin, and from Gadebusch in the west to Peenemünde and Usedom in the east, covering important historical events such as the Thirty Years' War, the rise and fall of the Swedish empire, the ascendancy of Prussia, social changes in the 18th century and the upheaval of the Napoleonic wars.
Hiddensee Island
Hiddensee is a small, car-free island (19 square kilometres) just off Rügen. It is part of the West-Pomeranian
Boddenlandschaft
National Park. The lighthouse on the Dornbusch cliff offers glorious views of the picturesque village of Kloster, the harbour at Vitte and the flowering heathland to the south. Hiddensee is an island of snowy-white sandy beaches – some reminiscent of the Caribbean – steep, rugged cliffs, beech groves flooded with sunlight, rustling pine forests and expanses of salt marsh.
Top of page
Map of Germany
Map showing all of Germany's TOP travel destinations...
Click here!
Search in surrounding area