Health Resorts & Spas in Germany
top
Bad Waldsee
Upper Swabia's hottest springs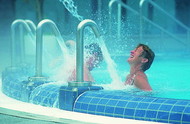 Bad Waldsee's spa and health facilities seek to promote a healthy balance between body, mind and soul. They offer a wide range of well-respected preventive and aftercare services and can provide a sensitive combination of traditional medicine and naturopathic treatments. Besides its thermal water (containing fluoride and sulphur) and Kneipp hydrotherapy, the resort also specialises in peat spa bathing and mud packs. Treatments are available for cardiovascular diseases, musculo-skeletal disorders, rheumatic diseases, gynaecological complaints, diseases of the digestive system, psychosomatic exhaustion, general weakness and convalescence.
Top of page
Medical facilities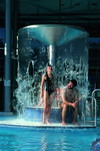 There is more to Bad Waldsee than bathing in Upper Swabia's hottest springs. It also offers medical expertise, the latest diagnostic techniques, comprehensive therapies and an elaborate pool complex. The range of therapies available - mud, water and exercise - offers treatment for many chronic illnesses.
Top of page
Map of Germany
Map showing all of Germany's TOP travel destinations...
Click here!
Search in surrounding area