Health Resorts & Spas in Germany
top
Places of interest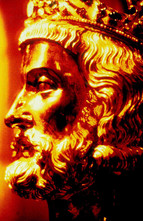 The Romans settled here 2,000 years ago, drawn by the thermal springs, but the real founder of the city was Charlemagne, who has shaped its history for 1200 years. The city's historical charm is most striking in the centre of the old town with its imposing cathedral, Gothic town hall and proud town houses dating from various centuries. The Elisenbrunnen drinking fountain is one of many in Aachen, and well worth a visit.
Aachen Cathedral
Next to the town hall, Aachen's cathedral casts an imposing presence at the heart of the old quarter. Charlemagne built the mighty octagonal domed structure in 800 as a palace chapel. Between 936 and 1531, thirty German kings were crowned on Charlemagne's famous marble throne. In 1414, the monumental chancel, a masterpiece of Gothic architecture, was added. Measuring an impressive 27 metres from top to bottom, its windows are the tallest of this architectural era. The chancel houses the golden shrine of Charlemagne (1215) and the Shrine of the Virgin Mary (1239), which contain the cathedral's most important relics.
Cathedral treasury
The cathedral has evolved over more than 1200 years. Emperors, kings and pilgrims donated its opulent furnishings and other treasures. The chandelier beneath the mosaic-decorated dome was given by Emperor Friedrich I, known as Barbarossa. The cathedral treasury is one of Europe's foremost church treasuries, and includes a unique collection of precious objects from the history of Aachen cathedral, such as the Lothar Cross (around AD 1000) and the silver and gold bust of Charlemagne (after 1349).
Aachen's Gothic town hall
The town hall was built, with a coronation hall, in the 14th century on the site of the throne room of the Carolingian imperial palace. Five Charlemagne frescoes by Alfred Rethel decorate the walls, and copies of the imperial insignia (orb, sword, crown), and a Carolingian manuscript can also be viewed. Since 1949, the International Charlemagne Prize has been awarded here by the city of Aachen in recognition of services to promote understanding between the peoples of Europe.
Top of page
Map of Germany
Map showing all of Germany's TOP travel destinations...
Click here!
Search in surrounding area