Health Resorts & Spas in Germany
top
Medical facilities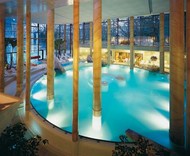 Formerly a centre of imperial power, Aachen owes its reputation as a spa resort to its springs, the hottest in central Europe which were used by both the Romans and later rulers. Nowadays, the spring water is put to good use in ultra-modern healthcare facilities in the Aachen-Burtscheid district where there are three rehabilitation and spa clinics.
Schwertbad Rehabilitation Clinic
The Schwertbad rehabilitation clinic uses a three-part system of in-patient and out-patient rehabilitation with the opportunity for non-resident medical treatment in well-maintained, comfortable surroundings. The health spa facilities include a large exercise pool (140 m²) with a water temperature of 32°C, a 36°C jacuzzi and a small therapy pool. Spa guests can also use the thermal swimming pools, massage/mud pack rooms, sports therapy hall, electrotherapy department, strength testing and ergometrics room, sauna, physiotherapy facilities and specialist baths. The following treatments are offered: naturopathy, therapy for osteoporosis and rheumatic diseases, chronic pain and musculo-skeletal complaints, orthopaedics, accident and injury aftercare.
"An der Rosenquelle" Rehabilitation Clinic
The rehabilitation clinic is located next to the spa gardens in Burtscheid, an old-established suburb of Aachen. As well as spa treatments the clinic provides therapies for a wide variety of conditions requiring rehabilitation, ranging from cardiovascular and circulatory complaints, lung and respiratory tract diseases to metabolic and orthopaedic conditions. The clinic's fully-trained staff and extensive facilities enable it to carry out internal, orthopaedic, surgical and neurological procedures. The following conditions can be treated: respiratory and lung diseases, circulatory and cardiovascular conditions, diseases of the internal organs, rheumatic diseases, metabolic conditions, musculo-skeletal problems, orthopaedic conditions, after-effects of accident and injuries.
Aachen Rheumatology Clinic
The rheumatology clinic with its own thermal spring for physical therapy is situated in the middle of Burtscheid, on the outskirts of the city centre. Spa guests can use a large thermal pool with a water temperature of 33°C. In addition to this there is a smaller therapy pool and a wide range of facilities for various spa treatments, massages, relaxation training, nutritional advice, fitness training, physiotherapy and ergotherapeutic functional therapy, medicinal therapy for the prevention of inflammation and pain therapy, medical training therapy, instruction courses for patients, heat, cold and electrotherapy treatments. Treatment is offered for the following: rheumatic diseases, chronic pain, musculo-skeletal illnesses, orthopaedic conditions, and recovery after accidents and injuries.
Contact:
Kurverwaltung Bad Aachen - Haus des Gastes
Burtscheider Markt 1
52066 Aachen
Email: kur.aachen@t-online.de
Internet: www.bad-aachen.de
Top of page
Map of Germany
Map showing all of Germany's TOP travel destinations...
Click here!
Search in surrounding area