Health Resorts & Spas in Germany
top
Art & culture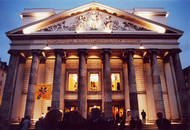 The Charlemagne Prize, IMC-UNESCO music prize, Aachen Art Prize, the Medaille Charlemagne (for European integration and cultural achievement in the media) and even the "Order against deadly seriousness", awarded each year by the Aachen carnival to someone - often a politician - who has displayed a sense of humour in the performance of their duties - are expressions of the diverse culture in Aachen and are just a few of the prestigious international prizes which are awarded by the city. Culture is a very important part of Aachen life, as is evident by its richly varied cultural scene. Even the casino has art on display. Around 100 well-known works from the 1960s and 70s turn a visit to the gaming tables into an unusual art experience.
The Ludwig Forum for International Art
The Ludwig Forum is housed in the spacious Bauhaus setting of a former umbrella factory. As a showcase and interactive forum for contemporary art and artists, it has around 3,000 works from the Ludwig Collection and other collections . The collections focus on American Pop-Art, photo realism and hyperrealism, the German "Neue Wilde" (which roughly translates as the "New Wild Ones") as well as Russian, Cuban and Chinese art. Highlights include works by Baselitz, Borofsky, Bulatov, Close, Hanson, Immendorf, Koons, Lichtenstein, Paik, Penck, Rauschenberg and Warhol.
The Suermondt Ludwig Museum
The museum is worth a visit for its art collection alone, but since its renovation, when its historical wall paintings were revealed, it now also provides a broader insight into life in a 19th century palace. The contrast between this historical building and the light and airy new extension also reflects the breadth of the museum's collection: Under the heading of "From here to antiquity" the museum displays contemporary art and classical modernism, the Düsseldorf and Munich schools of painters, paintings from the 18th century, the baroque era and the Middle Ages.
Aachen Theatre
Ambitious programme featuring ensemble and repertory theatre. Aachen Theatre has made a name for itself as a venue for inimitable drama, music and operatic performances.
Top of page
Map of Germany
Map showing all of Germany's TOP travel destinations...
Click here!
Search in surrounding area