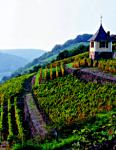 If you want to get away from the cities and are looking for a wealth of beautiful, unspoilt, natural landscapes, Germany offers a wide range of outdoor activities. Explore Germany's marvelous natural landscapes - on foot, by bike or by boat!

A miracle of nature with its sandstone formations is the National Park Saxon Switzerland close to Dresden or discover the German Alps and Germany's highest mountain; the Zugspitze in the state of Bavaria.
If you prefer lowlands, take a trip to popular Luneburger Heath in the northern part of Germany. Traditionally, the heath can be seen at its best in late summer from mid-August to late-September when it is usually in full bloom. Some, however, prefer springtime when the yellow gleam of canola fields or the bright colors of green leaves create an atmosphere of serenity.

A gem, and free of charge as well, is the historical trail of the clock carriers and the Black Forest cuckoo clock history experience.
Once in the area, a visit to the Black Forest open-air museum Vogtsbauernhof in Gutach is only $9. Experience the history of he Black Forest from the 16th to the 20th centuries as you walk through this stuning open air museum.

Or why not get on a bike and enjoy Germany's beautiful landscapes, lakeshores and cities along one of the many safe, easy and free of charge cycle trails throughout the country. Millions of visitors to Germany have already discovered that exploring the country by bike can be both relaxing and exciting.
For example the Romantic Road with its ever-changing scenery makes an ideal bike trip destination. Local tourist offices usually keep lists of companies where it's possible to rent bikes at reasonable prices.