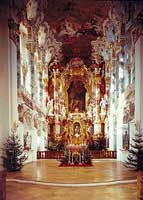 In days gone by, mighty conquerors and wandering monks had a shared habit of bringing something with them, and usually leaving something behind as well. Evidence of this long tradition can be found in the South Germany UNESCO World Heritage sites, which include magnificent sacred buildings such as the Pilgrimage Church of Wies, Bamberg imperial cathedral, Maulbronn's remarkable monastery, and the Monastic Island of Reichenau. Würzburg Residenz palace is another fine historic attraction, while the Roman Limes border wall brings visitors closer to the rich history of the Roman empire.
Learn more about South Germany UNESCO World Heritage sites:
Ready to be fascinated by Bamberg's medieval and baroque architecture? How about venturing to the Maulbronn Monastery Complex, founded in 1147 by Cistercian monks? Everywhere you look, you can find South Germany UNESCO World Heritage sites. These sites, according to the UNESCO World Heritage Centre, represent the "identification, protection, and preservation of cultural and natural heritage around the world considered to be of outstanding value to humanity."
If you'd like to learn more about UNESCO World Heritage sites in Southern Germany, please use the links below, download a UNESCO brochure or order informative material at our webshop.