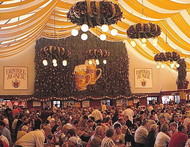 In terms of size, the Stuttgart Beer Festival is second-only to the Oktoberfest in Munich. It takes place at the end of September every year in the area around the 24 metre high fruit column and originated in 1818 as a harvest festival following a famine.
Germany's second largest beer festival
The festival provides two weeks of fun with oompah bands in traditional costume inside the marquees and fairground attractions such as the Ferris wheel, loop-the-loop rollercoasters and the old-fashioned chairoplane merry-go-rounds outside. Attracting more than 5 million visitors every year, the event is a firm favourite with the public.