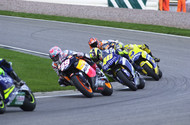 The Sachsenring racetrack is one of the most challenging Grand Prix circuits, and every summer it is the venue for the one of the hottest races of the season. The track holds a magical appeal for all motorsport fans, and the only way to do proper justice to the MotoGP is to experience it live.
Close enough to smell the burning rubber
Year after year this action-packed, high-speed spectacle offers a host of fabulous experiences. The area around the racetrack becomes a party zone during the event, with a funfair on Ankerberg hill featuring bungee jumping, rides, marquees, shows, concerts and open-air discos. On the pit tours and at the traditional charity football match, you can see even see the stars of the motorcycle world close up a few days before the race gets underway.