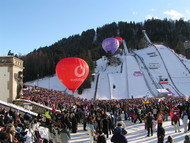 Garmisch-Partenkirchen is the second of four towns which host the ski jumping world championships known as the Four Hills Tournament. The venue for the event, which traditionally takes place on New Years Day, is the Olympic Ski Stadium.
Ski jumping from Oberstdorf to Bischofshofen
The brainchild of ski enthusiasts from Innsbruck and Partenkirchen, the Four Hills Tournament was brought to life in 1949, and has since become one of the most popular events in the professional winter sports programme. Kicking off in Oberstdorf, the championships then move on to the New Year ski jumping competition in Garmisch-Partenkirchen. Innsbruck is up next, while the fourth and final leg takes place in Bischofshofen.