Places of interest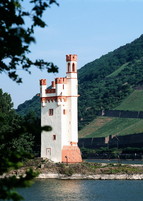 Bingen's history stretches back to the days of the Romans, the first people to settle here in the Rhine Valley. Each of the subsequent historical periods has left its mark on the town, as well as producing a number of landmarks that can still be seen today. The most famous of these are Mouse Tower, Klopp Castle, St. Martin's Basilica, St. Rochus Chapel and the Old Crane, once used to load the barges in Bingen's harbour. Not far from Bingen is the point where the Rhine carves its way through the Rhenish-Westphalian Slate Mountains, marking the entrance to the Upper Middle Rhine Valley UNESCO World Heritage site.
Mouse Tower
Mouse Tower, Bingen's most famous landmark, is set on a small island in the river Rhine. It has long been associated with the gloomy tale of the miserly bishop, Hatto II, said to have been killed here by thousands of mice in 970. The tower owes its present appearance to reconstruction work carried out under Prussian rule.
Klopp Castle on Kloppberg hill
Events throughout history, from Roman Times to the Second World War, have left their mark on this fortress on Kloppberg hill. Destroyed and rebuilt many times, the castle is now one of Bingen's most magnificent landmarks.
Roman villa rustica
During their time here, the Romans had a great influence on the whole of the Upper Middle Rhine Valley. The excavated remains of an original Roman estate dating from the first centuries AD can be seen at the "villa rustica". There are also a number of finds, information boards and pictures documenting the excavation work carried out here.
Top of page
Map of Germany
Map showing all of Germany's TOP travel destinations...
Click here!
Search in surrounding area